FULL SPECTRUM HEALING
Full-spectrum healing helps in addressing emotional, energetic, physical, neurological, and structural dysfunctions in an organized and collaborative manner. The full spectrum care model addresses the local pain and the underlying cause. We call this approach, The OrthoCure Clinic Approach! The combined system allows for healing both the present ailment and the overall health. It includes multiple specialists in Regenerative and cellular therapies, Sports medicine, Functional medicine, Naturopathy, Hypnosis, Physical therapy, Upper cervical chiropractic, Rolfing, Registered dietician, D. psychology, and Personal training. Dr. Hanson developed a 5-week advanced protocol system and has practiced them for the past 12 years. These protocols include Assessments & Treatment, Protocol Assessments, Protocol Interventions, Patient General Experience and Aftercare.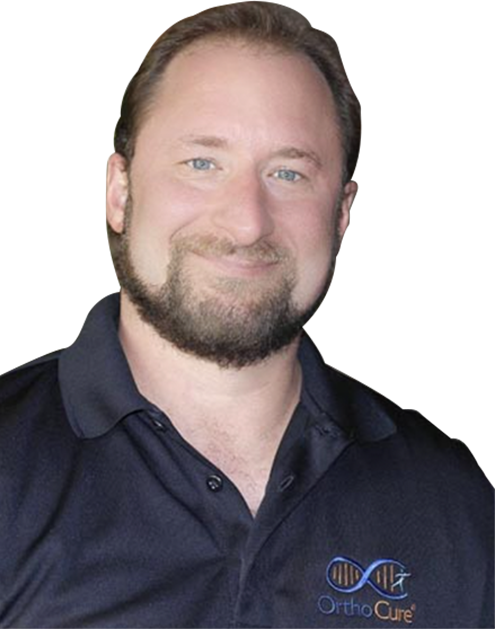 CONDITIONS TREATED BY CELLULAR THERAPIES
Cellular therapies regenerate injured tissue, such as bone, cartilage, tendon, and ligament tissue.
Most common injuries treated are neck, back, knees, hips, elbows, ankles, and shoulders.  
Learn more about Cellular Therapy here.  
CONDITIONS TREATED BY REGENERATIVE MEDICINE USING CELLULAR THERAPIES
LYME DISEASE
Lymes Disease is the most frequent of the zoonotic tick-borne diseases to be diagnosed worldwide. Symptoms in the early stages can start with erythema migraines, followed several weeks later by neuro-borreliosis (meningo-radiculitis, meningitis, or meningo-encephalitis), Lyme arthritis and/or Borrelia lymphocytoma. It is useful to recognize that Lyme disease occurs in stages, with early- and late-stage disease. Symptoms in late stage lyme-disease can include numbness in hands and legs; arthritis, short term memory loss.
Meet Dr. Ron Hanson
When you're hurting it can sometimes be easy to focus on just stopping the pain instead of fully fixing the problem. However, a lot of pain treatments don't solve the underlying problem. Invasive surgery has its own concerns, including a lengthy recovery time with often less than hoped for results.
At OrthoCure Clinic our goal is to identify and heal the underlying root causes of pain and dysfunction, so you can live your life with full vitality. This is not a goal we take at all lightly, and we'd be happy to show you how we live up to it.
CELLULAR THERAPY
Cellular therapies have been commonly described as 'stem cell therapies'. It is more accurate to discuss stem cell therapies to describe injections that only have stem cells in the injection. These highly synthesized injections can only be achieved by means of culturing that are not currently allowed by US FDA. I was able to perform these types of procedures for patients for years before the FDA asserted control of the person's own stem cells through regulation.
Neck & Back Pain
Knee & Hip Pain
Shoulder & Elbow Pain
Foot & Ankle Pain
TIRED OF THE PAIN?
You probably don't need surgery.
Your body is created to heal itself. The advanced cellular therapies at OrthoCure Clinic include the most complete injection paradigms to address root causes of pain and degeneration without surgery.
Don't trust your body or your health to those trying to convince you your own cells shouldn't be used. They may be using unskilled methods that are unsafe and not FDA approved. At best they are uninformed.
Cellular therapies require a highly specialized orthopedic physician using lab optimized and verified cells from your own body, injected with expert guidance for the best results.
Gregory Ludvigsen
I had back problems since high school. Was considering surgery When I heard about Dr Hanson.
Matthew Lee
I saw Dr. Hanson in August of 2019 for tendon and nerve issues. He provided a very thorough examination and treated all of my injuries. The treatment helped me overcome several injuries in my feet, ankles, and knees. He and his staff are wonderful to work with and they spend so much time with you to make sure all of your needs are addressed. Dr. Hanson is one of the most experience stem cell doctors in the country and is very reasonably priced. If you are considering stem cell treatment… Make sure to schedule a consult with Dr. Hanson first!
Derinda Babcock

Both my husband and I would give Dr. Hanson and the staff at OrthoCure Clinic ten stars if we had this option. Dr. Hanson is highly skilled and constantly grows his knowledge so he can provide the most effective patient treatment. He is willing to answer my questions and to listen to my concerns, and I have never felt like a number with him. The staff he works with are caring, kind, and helpful. So when life's unexpected injuries try to slow my husband and me down, we don't schedule surgery, we schedule a flight to OrthoCure Clinic.
Jake Supri

I had PRP and bone marrow injections into my cervical spine and my shoulders. I started noticing results after 2 weeks. I am now about a month post procedure and I am able to do things again that I have not been able to do in about 5 months. I am looking forward to seeing how much better I feel 6 months from now.
Alex Anderson

I can't say enough about Dr. Hanson & his clinic & staff. After seeing over 30 doctors since 2017 for complications from a kidney disease and failure to recover due to more complications (including being in an induced coma because doctors could not find a solution), Dr. Hanson literally saved my life. Within 3 weeks of this procedure I was beginning to perform regular life tasks again. I had been unable to tolerate food or chemical smells at all, and therefore could not go anywhere outside the home and even had violent reactions to things inside the home. After Dr. Hanson treated me I could shop, clean, do bookkeeping, care for my husband, go be social – I got my life back. There are barely words to express my gratitude.
Jeromy Urbaniak

I came to Dr Hanson on a referral from my Functional Medicine Doctor. I was again suffering from constant pain in my lower back area. I had a complete 4 disc fusion surgery in 2012 which was a 5 1/2 hour procedure. Thinking in 2012 this would finally fix my back issues, which it didn't. Surgery rehab is way different then rehab of Dr Hanson's procedures. I have had 2 procedures from Dr Hanson so far, the Stellate Ganglion Block and PRP of over 40 injections in my back area.. Dr Hanson laid out the procedure plan and the after care plan so there was no confusion on what I would need to do. I will say if you follow the process even though at times you won't want to, you will have high likelyhood of positive if not life changing results. I am intrigued by Professionals like Dr. Hanson, his passion and desire to continually improve his Mind, Body and Soul approach to Healing. He is a nerd for anything related to helping his patients improve there quality of life! Thanks to Dr Hanson and his GREAT Staff!